It can be hard to sell jewelry in a trade show expo. There are so many other jewelry booths that you need to find a way to stand out above all of them. Besides selling good jewelry, you can also use these 3 techniques to help you sell your jewelry faster.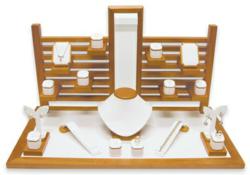 attractive jewelry display
1.
Use attractive jewelry display
– no one will disagree with you that a
good jewelry display
can actually help you sell more. If your display is organized and attractive, you'll be able to attract more people to your booth. On the other hand, if you keep your display messy, customers won't be able to find what they're looking for. A cluttered display will also attract dust so your jewelry will likely be affected if you don't regulate maintenance and cleaning for your pieces. Besides maintaining an attractive display, you should also use display equipment to create elevation, classify pieces and put together similar pieces of jewelry. If you can't make your own display equipment, you can always buy assorted types of display from popular wholesale shops.
2.
Color-coordinate jewelry
– there's just something about jewelry when you color coordinate them. Sometimes, the more a person sees a color, the more they are attracted to it. If you put all of your jewelry in a
display where red necklace
are with red rings, then you give your customers a chance to see the type of jewelry they want in an easier manner. Besides, if they already have a specific outfit in mind, they probably already have a specific color of accessory planned out as well. Unfortunately, color coordinating jewelry can be a little hard, especially if you don't have a balanced amount of jewelry per color.
3.
Ride on a celebrity's fame
– everybody has a celebrity they adore. If you use a celebrity's jewelry style to create your own pieces, you can let people know this by posting pictures of celebrities wearing a similar jewelry. Once the customer sees that your jewelry is similar to the one worn by their favorite celebrity, they'll definitely be interested in buying it. Of course, this means that you'll have to get several inspirations for your jewelry. But if you'll be targeting the fans of a celebrity, it'll be worth the effort.