When you're displaying a whole set of jewelry, it's important to keep the set together in order to sell it. Displaying one piece apart from another will result in the possibility of selling only one part of the set. Why sell only one part of the set when you can sell the whole set, right? The only way to do that is to make your
jewelry display for sets
attractive and engaging for customers.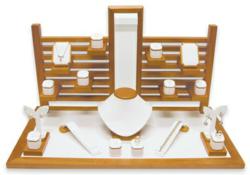 display stand for sets
For special sets of jewelry, you can choose from the different types of display stands.
Platform style stand
Similar to a riser, the platform style is composed of various stands, shown at different levels. Height is important to give way to exposure and emphasis on your jewelry. If you want to showcase a set of jewelry well, you need to display it based on the piece that you want to emphasize. For example, you can put the necklace on the highest platform, or the one with the biggest space. Once the customer sees it and likes it, they'll immediately see the next piece of jewelry just below it. When they realize it's a set, that's the time they'll start imagining themselves wearing the whole jewelry set. If they like what they see, that's the time they complete their buying decision.
Set Collection
This type of display is a collection of different stands for each type of jewelry. Usually, a
set collection
will contain
necklace display pad
, ring stands, bracelet bars and even an earring puff. Bigger collections will have two or three of each. The good thing about a set collection is that it'll allow you to display special collections in one designated jewelry display. Uniformity can make a display look very elegant. Match that with an elegant collection and you have a successful display for your jewelry shop.
jewelry display sets
Collection Pads
Pads, on the other hand, are a simpler and more basic way to display your jewelry. Pads are simply soft, comfy pads where you can lay your jewelry. Best used for booths, collection pads will test your creativity in arranging the sets. When you arrange your jewelry, just make sure that you don't clutter all of your pieces in one place. Remember, a cluttered display will only make your booth look crowded.
Jewelry Risers
This type of display is very helpful in adding height to your jewelry. Whether or not you may be selling a jewelry set composed of a necklace, bracelet and ring, or a collection of rings with a similar concept, you can use these
jewelry risers
to instill interest and add variety to your display.
Women are very particular about the type of jewelry they wear. As much as possible, they'll want matching jewelries to avoid the hassle of looking for another piece that will look great on their outfit. If you can give customers the set of jewelry they want, you can guarantee more sales for your shop.